Love And Lingerie

Lucy Heart is pleased to show off her new lingerie for Max Dior. He helps her dress up between kisses. Once she has both stockings on and has attached the tops to the garter belt, Lucy inspects herself in the mirror. Satisfied with what she sees, she collapses on the couch to make out with Max.Making out isn't enough for a girl who's feeling stunning in her lingerie. She gets to her knees as she pulls Max's hardon out of his pants. Soon enough she's got her hands and mouth working in tandem as she explores every inch of his hardon. From a deep throat BJ to ball sucking, this blonde babe is interested in maximizing Max's enjoyment through any means necessary.Taking Max by the hand once she ha
...
s gotten to her feet, Lucy leads him to the bedroom where they have more space to get it on. Max slides Lucy's bra off so he can lap at one of her breasts, but his real goal is her tight twat. He relieves Lucy of her panties and sweeps his tongue up and down her already slippery slit. Finding Lucy nice and wet, Max slides a finger deep as his tongue flirts with her chocolate starfish. Then he settles in for a lengthy pussy licking.With Lucy still on her knees, it's the perfect invitation for Max to shift his position so he can push his dick all the way inside. Her twat is nice and tight around him as he shoves himself in. Lucy's loud moans of delight and her hands grasping the sheets are twin indications that she wants Max to pick up the pace. He's happy to oblige.Rolling onto her side, Lucy lifts a thigh so Max can curl up behind her for some spooning sex. She wraps her leg backwards, opening herself wide for Max's ministrations. As Max continues to give her the D, Lucy leans forward until he's hitting just the right spot to make her moan.Lucy has one last climax left in her, so she goes after it by climbing onto Max's fuck stick for a cowgirl ride. Her breasts are right in Max's line of vision to caress as she takes things slow and steady. Leaning forward, Lucy locks lips with Max as she enjoys her final orgasm. Then she climbs off of him and resumes sucking him off as he fondles her still-dripping snatch. A few strokes is all it takes for Max to fill Lucy's mouth with a payload of hot cum.

Love And Lingerie
Lucy Heart is pleased to show off her new lingerie for Max Dior. He helps her dress up between kisses. Once she has both stockings on and has attached the tops to the garter belt, Lucy inspects herself in the mirror. ...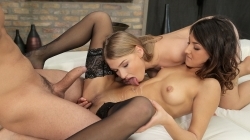 Sweet Release
Raul Costa and his girlfriend Lucy Heart have their lips locked as they indulge in long kisses. Unknown to them, Suzy Rainbow is standing on the sidelines with h ...
Top 20 Models
Statistics

Models 4.917
Galleries: 11.062
Pictures: 219.136
Videos: 3.715