Step Sister Fucks And Sucks

Olivia Lua and Brad Knight are in a race to use the shower, so they each peel off their clothes as fast as they can. By the time Brad has whipped out his hardon, Olivia is already nude with her pierced nipples and her bare twat. He sticks around, watching as Olivia wets herself down. When Olivia bends down to get the soap, Brad makes his move and slides into her slippery twat from behind.Olivia is instantly into it, and it's not long before she has propped one leg up to give Brad easier access so that he can work her with long, deep strokes as her tits bounce in the warm water. His determination pays off when Olivia gets off, but she doesn't stick around to help him out. When he confronts he
...
r later, she claims that he didn't do anything for her at all, leaving Brad to prove that he can indeed make her cum.Though Olivia tries to bluff her way through, Brad eventually gets her to admit how much fun she's having through a combination of a bare pussy feast and all the hardcore action she can handle. Once Brad has made Olivia cum again, she finally returns the favor by sucking him off until he explodes to give her a sticky facial.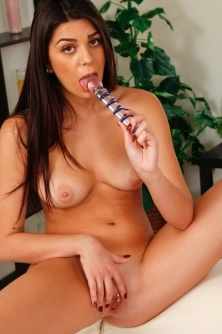 Toy Play
American chick Olivia Lua wants everyone to admire her full boobs with their pierced nipples. From there, the exotic coed keeps stripping until she uncovers her hidden secret: a pierced clitoris that peeks out from h ...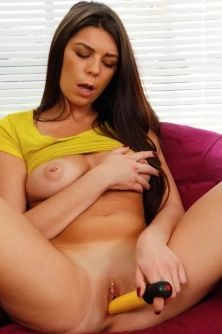 Into It
Tan lines highlight the fullness of Olivia Lua's perky breasts and accentuate her sweet areolas. Once she peels her panties off, you can see that her tan lines extend to her bare cooch. She warms herself up with a pu ...
Top 20 Models
Statistics

Models 4.917
Galleries: 11.062
Pictures: 219.136
Videos: 3.715