College Coed Fuck And Facial

Naughty coed Quenna finishes her jog and gives Tomas Richards a long kiss when she finds him waiting for her. Bringing him inside, she lets Tomas peel off her bra and shirt, and once she's down to her thong she drops to her knees to suck him off. Her soft lips work his stiffie as Tomas continues to undress her, and eventually they relocate to the couch so that Quenna can really get down on Tomas's fuck stick.Swinging one leg around Tomas's lap, Quenna seats herself on his fuck stick and slides down slowly. Her pussy cream lubes up the way as she rides with long slow strokes of her hips. When she climbs down and positions herself on her hands and knees, Tomas just needs to slip his hand betwe
...
en her thighs to feel how wet she is before he knows she's ready for him to take her doggy style.When Quenna flips onto her back, her rock hard nipples let Tomas know how close she is to cumming. Her moans fill the room as he brings her bald pussy off, and then she knows it's up to her to bring Tomas the same pleasure. Using her hands and mouth, she blows her lover until he explodes everywhere for a hot sticky cum facial.

More Galleries featuring Quenna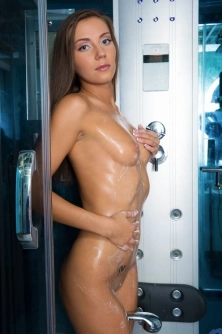 Get Me Wet
Lusty 22 year old Quenna loves getting in the shower since it means peeling off her bra and panties and getting warm water all over her small boobs and flat belly. After making sure she's nice and clean, the horny co ...
Top 20 Models
Statistics

Models 4.917
Galleries: 11.062
Pictures: 219.136
Videos: 3.715