Come On In

It's the morning after a night of passion and Sheryl X is in the washroom getting herself all made up. Her boyfriend, Thomas Stone, gets out of bed and makes his way to the bathroom door where he can admire her properly. He takes the opportunity to step into the shower, which gives them each a perfect view of one another.Sheryl lets Thomas tease her for a few minutes as they flirt across the room, but eventually she can't resist the temptation to join him in the shower. Wrapping her hand around Thomas's hardon, she starts stroking as he directs the spray towards her white shirt. Once it's wet, Sheryl's shirt is delightfully see through to reveal her tight nipples and lovely curves.When they
...
have indulged their playfulness with the water, Sheryl drops to her knees to deliver the blow job she's been craving. She takes her time, exploring every inch of Thomas's hardon with her soft lips and warm tongue. Sucking and stroking, she devotes herself to her boyfriend's lusty pleasure. In return, Thomas drops to his knees and hooks one of Sheryl's knees over his shoulder to properly open her up for a pussy feast delight.Getting to his feet, Thomas keeps Sheryl in her previous position as he shoves his way into her velvet glove. Her twat is nice and wet, making easy for him to slide inside. They keep it up for a few moments before exchanging a deep kiss and relocating to the bedroom where they can enjoy themselves in comfort.Kneeling on the bed, Sheryl watches over her shoulder as Thomas reenters her juicy twat. She rocks back to meet him stroke for stroke, moaning in delight as she takes it hard. When she rolls onto her side with Thomas spooned behind her, she lets him hold her thigh up to make it simple for them to continue to fuck. Reaching down, she rubs her clit until Thomas guides her leg down so he can hit her g-spot.Next it's Sheryl's time to shine as Thomas rolls onto his back and helps her impale herself on his hardon. Rocking her hips, she takes a moment to enjoy the fullness before really giving her all. She takes a break off to scoot backwards and then lean forward for a hardcore 69. They enjoy some mutual sucking, and then Sheryl climbs back on the D to ride again, this time in cowgirl. She keeps it up until Thomas uses his hands on her hips to push her down and glut her with a creampie of hot cum.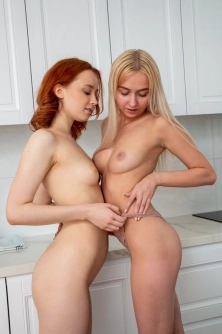 Drink Me In
It's a lovely afternoon as Sheryl X and Bernie hang out together in the kitchen. The sexual tension is obvious as they gently flirt. Eventually, Bernie tires of playing games. She maneuvers Sheryl so that her back is ...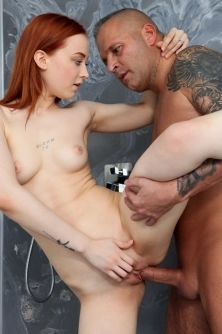 Come On In
It's the morning after a night of passion and Sheryl X is in the washroom getting herself all made up. Her boyfriend, Thomas Stone, gets out of bed and makes his way to the bathroom door where he can admire her prope ...
Top 20 Models
Statistics

Models 4.917
Galleries: 11.062
Pictures: 219.136
Videos: 3.715