Need Your Love

Clad in lacy lingerie, Monica Brown waits in bed until her beau Oliver Trunk arrives home for the evening. Oliver is fresh from work, but that doesn't stop Monica from meeting him hard kiss for kiss. Working his way down Monica's throat, Oliver indulges in the sweet silkiness of her tanned skin.Slipping his hand lower as Monica goes up on her knees to give him better access, Oliver smiles to find his lover warm, wet, and willing. Monica lets him explore her body for a moment, then leans forward to relieve him of his jeans so she can lay her hands and mouth on his stiffie. Oliver's thick erection is just what she's been craving as she deep throats him and strokes the base that her mouth canno
...
t reach.Oliver could let Monica Hoover him with her mouth forever, but he wants to make her feel good, too! He gently disengages from her mouth and then peels her out of her clothes until she is radiant and nude before him. Then he slides his face between her thighs and flicks his tongue out in a prelude of oral delight that leaves Monica quivering. Crawling higher in the bed so that he is spooned behind her, Oliver finally enters Monica's bald pussy in one firm stroke. He slides his hand beneath her knee to help her keep her leg high as he fucks her, creating a sensual angle of penetration. Moaning long and loud, Monica guides Oliver with the little gasps of pleasure that escape her lips.When Oliver rolls onto his back, Monica knows just what to do. She climbs onto his fuck stick and slides down in reverse cowgirl, moving slowly until she's fully impaled. Her hips create a sensual rhythm that only gets sweeter when she turns around so that her breasts and hair fall into Oliver's face as she rides him. Monica has already enjoyed one climax, but she's a girl who can have multiples and so she gets on her hands and knees. Oliver answers her unspoken plea, resuming his pussy pounding until she's squealing with delight. As her twat squeezes him, Oliver closes in on a climax of his own. Monica's sweet lips are the thing that sends him over the edge so that he spills his seed into her mouth and dribbling down her breasts and belly.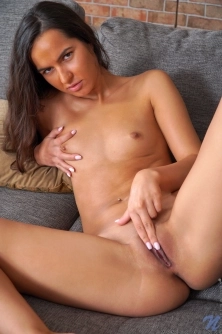 Toy Orgasm
Want to watch Monica Brown peel off her bra and thong and play with toys? Good, because that's what this sex kitten wants to do. She flings her long hair behind her back and grabs a big dildo that she sucks and strok ...
Need Your Love
Clad in lacy lingerie, Monica Brown waits in bed until her beau Oliver Trunk arrives home for the evening. Oliver is fresh from work, but that doesn't stop Monica from meeting him hard kiss for kiss. Working his way ...
Top 20 Models
Statistics

Models 4.917
Galleries: 11.062
Pictures: 219.136
Videos: 3.715