Darcy Does It Best

Darcy Dark wants morning sex from her boyfriend Martin Spell, but he's still asleep. That's okay. She peels her clothes off and struts naked to the bed. When Darcy crawls into bed with Martin, he wakes up to the delight of her kisses. Straddling her boyfriend, Darcy keeps their make out party going as her nudity makes what she wants clear. Sitting up, she pulls Martin up with her so that his face is right at titty sucking height. He makes good use of his mouth, which is just what Darcy was hoping he'd do.Since foreplay is the name of the game, Darcy eventually lays Martin back and goes to work kissing her way down his body. When she reaches Martin's cock, Darcy wraps her hand around the root
...
and leans in to lap at the head. Sucking Martin like a lollipop, Darcy even rubs her own soft breasts with the velvet steel of her boyfriend's hardon. In return for the nice BJ, Martin gets Darcy on her back so he can feast on her pretty bare pussy before sticking it in and shoving deep.Darcy enjoys a bit of spooning sex, but she wants to be in charge. Martin allows it as he rolls onto his back and helps his girlfriend climb on top. She sinks down onto Martin's fuck stick in reverse cowgirl for an enthusiastic ride. Falling to her side for another round of spooning, Darcy mewls at the way Martin manhandles her. She finds herself on her belly with Martin pounding her from behind, then she rolls over to let Martin continue to bring her to the brink. Climbing back on to Martin's cock, Darcy rides him in cowgirl until she has finally been sated. She ends their lovemaking on her belly, happily licking at Martin's dick once again until he gives her a facial and a mouthful of cum to enjoy.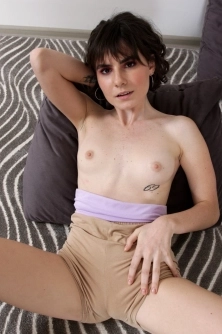 Flexible Fun
When you're with teen dream Darcy Dark, you're practically guaranteed a sexy good time. This petite treat loves to get herself off, whether it's with a partner or on her own. Of course you'll want to enjoy the show a ...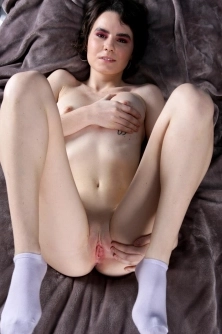 Sweet And Petite
Petite treat Darcy Dark wants to let you see everything that's underneath her jammies. She takes her time, enjoying the caress of her talented hands as she pops her perky boobies out and plays with her nipples. Going ...
Top 20 Models
Statistics

Models 4.917
Galleries: 11.062
Pictures: 219.136
Videos: 3.715