Down To Business

Do you want to see a lusty and busty mom like Kacie Lou flip her miniskirt up and go to work on her greedy snatch? First she has to give her incredible huge boobs a squeeze and pay tribute to those hard nipples. Moving on to her cunt, she shoves two fingers knuckle deep for a masturbation delight.

Turn Me On
Check out Kacie Lou, a blonde stunner who has the most incredible big boobies. You won't be able to take your eyes off those beauts as she peels herself out of her tight dress and gets comfy with her vibrator. Tuggin ...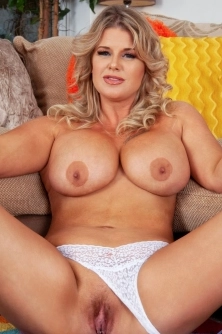 Up To Something
Out on the prowl in a halter dress that highlights her incredible big boobies, Kacie Lou can't wait to bring you home and make her cum. If she's flying solo, this horny mommy can handle her own needs. Her tits are th ...
Top 20 Models
Statistics

Models 4.917
Galleries: 11.062
Pictures: 219.136
Videos: 3.715