Everybody Does It

Allie Addison walks in on her stepbrother as he's sitting in the living room beating his meat to some juicy porn. She admits that she's felt the urge as well, and that she's even pulled up porn using her stepbrother's laptop. Eventually Allie asks if her stepbro thinks about her when he's whacking it. He admits that he does, and she admits that she thinks about him, too. Allie asks if she can join in watching, then gives him permission to keep masturbating as she does the same on the couch beside him.Eventually Allie can't resist the temptation to crawl across the couch and take her stepbrother's stiffie between her lips. She sucks him off while reassuring him that it's fine and no one will
...
know. By the time she's done blowing him, Allie's stepbro is ready and willing to slide his fuck stick all the way into her greedy bare twat. When Allie rolls onto her hands and knees, her bro can really appreciate the combination of her big ass and tiny waist. He pounds her doggy style, then takes a seat so she can ride his fuck stick. Turning around for a cowgirl ride that puts her titties right in her stepbrother's face, Allie gives herself the climax she craves. She finds herself on her back once again with her stepbrother standing above her and dominating that snatch. Much to her delight, he gives her the creampie she's been dreaming of.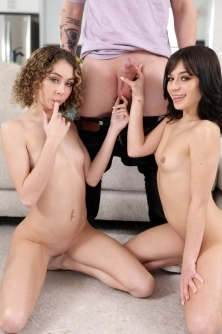 These Taste Like Dick
It's Easter, which means that marshmallow chicks are in season. Aria Valencia and her friend Allie Addison are enjoying themselves with the snacks while chatting that they taste like dick. Aria's stepbrother, Joshua ...
Top 20 Models
Statistics

Models 4.917
Galleries: 11.062
Pictures: 219.136
Videos: 3.715