Roxy Gets Her Rocks Off

Big nipple babe Roxy Ryder is looking sleek and sexy in her cute black getup. She'll give you a flash of the pink as a teaser, but then she'll make you wait for more until she has satisfied herself playing with her pierced nipples. Once she grabs a vibrator, all bets are off!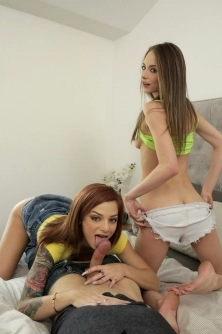 Fooling Around With My Step Brother
Kyler Quinn is closer to her adopted cousin Roxy Ryder than the average family, as evidenced by the way the girls enjoy putting on lacy lingerie bras and panties and masturbating together. The cousins have both got t ...
Top 20 Models
Statistics

Models 4.917
Galleries: 11.062
Pictures: 219.136
Videos: 3.715