Sexual Satisfaction

Dressed in just a bra and lacy thong, Rahyndee James helps Ryan Driller position a picture just so over the bed. When they are both satisfied with the placement of the picture, they celebrate with a kiss. Ryan can't keep his hands off of Rahyndee's tits beneath her bra, but that's okay because she can't keep her mouth off of his cock as soon as she has released it from his jeans.While Rahyndee goes to town licking and sucking on Ryan's dick, he runs his hands all over her body and thrusts his hips to pump in and out of her mouth. The brunette takes it all with obvious enjoyment., smiling and licking with more enthusiasm the longer her blowjob goes on.Soon Rahyndee is naked and Ryan can't ke
...
ep his mouth to himself! He gets close and personal with her creamy pussy, wetting her down so that his rock solid cock can slam into her. His pussy pounding is fast and furious from the start, and Rahyndee is instantly enthralled. It only gets better when Ryan pushes her onto his side so that he can spoon her from behind with deep sensual thrusts of his member until her whole body is throbbing.After another pussy feast, Ryan keeps on working his sensual magic to satisfy Rahydnee's carnal needs. Spreading her legs to their max, he slips into her juicy twat and rocks his hips, taking things slower this time but building up speed until Rahyndee achieves orgasmic results that leave the toned coed totally satisfied and spent.Now it's Rahyndee's turn to get her partner off and she knows just how to give him a treat. Pressing her full tits together, she gives Ryan the perfect channel to fill and fuck. He pumps his hips in adoration of her sleek breasts, keeping up his breakneck pace until he creams all over her lusty tits.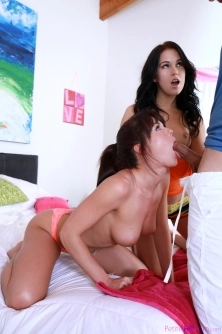 Two Becomes Three
Lusty coeds Megan Rain and Rahyndee James can't get enough of playing with each other's tight horny bodies. By the time the girls are half naked and caught up in their sexual frenzy, they are joined by Ryan Driller w ...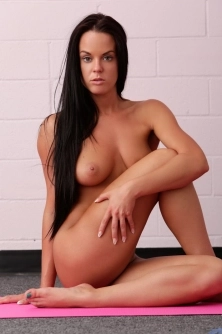 Vibrators Help Her Relax
A morning of yoga leaves 22 year old Rahyndee James eager to get herself off for some post-orgasmic bliss. The super-fit hottie works her way out of her bra and panties and then does a few more exercises for good mea ...
Self Satisfaction
22 year old Rahyndee James loves to take good care of herself. She tans and works out, and she knows that masturbating is good for the soul! Her bra is always the first to go when she gets horny so that she can massa ...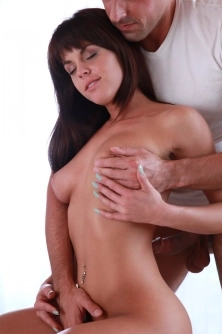 Sexual Satisfaction
Dressed in just a bra and lacy thong, Rahyndee James helps Ryan Driller position a picture just so over the bed. When they are both satisfied with the placement of the picture, they celebrate with a kiss. Ryan can't ...
Top 20 Models
Statistics

Models 4.917
Galleries: 11.062
Pictures: 219.136
Videos: 3.715