Keeping A Secret

Nia Nacci is on the phone when her stepbrother Tony approaches her and tells her it's important that she give him her undivided attention. He tells Nia that he's being blamed for stealing stuff from school and it's not him, so it must be her. He grabs Nia's backpack, then dumps it on her bed to prove that Nia was indeed the thief. She tries fake crying, then moves on to talking shit about Tony. When Tony calls her bluff and says he's gonna call Nia's mom, she offers to show him her tits.Lifting her shirt to let her big knockers pop free, Nia grabs Tony's hand and presses his palm against her hard nipples. Tony tries to rebuff her advances, but Nia gets on her knees and pulls out her stepbro'
...
s dick to suck it. Next thing Tony knows, he's got his stepsister's lips wrapped around his dick as she deep throats him until the head of his dick slides to the back of her throat. When Nia gets to her feet and turns around so Tony can admire her juicy ass and bald twat as she takes her shorts off, she is certain she has her stepbrother in the palm of her hand.She continues her BJ and then moves on to a titty fuck between her giant jugs. Then she climbs onto Tony's fuck stick and lets him keep admire her bazongas as she bounces up and down on his dick. Turning around for some reverse cowgirl, Nia gives Tony an eyeful of that bottom as she keeps her hips going. When she rolls onto her back it's good, but it's even better for both of them when Nia gets on her hands and knees so Tony can pound that pussy doggy style. She finishes Tony off with another blowjob until she has swallowed his cumshot. Now that they both have something on each other, they agree that they'll just keep fucking and keep their mouths shut.


Nia Nacci Facial
Nia Nacci is one horny girl. She's so horny, Nia's about to do something she's never done before: walk into a creepy, adult bookshop! Nia claims she's just there 'to look', but when the bookstore clerk gets to her, i ...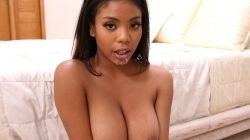 Keeping A Secret
Nia Nacci is on the phone when her stepbrother Tony approaches her and tells her it's important that she give him her undivided attention. He tells Nia that he's ...
Top 20 Models
Statistics

Models 4.917
Galleries: 11.062
Pictures: 219.136
Videos: 3.715