After The Party

It's been a while since Scarlett Bloom has been nice to her stepbrother Tony, and today is no exception. She is in the middle of cleaning up from a party she had the previous night when she suggests Tony help her clean it up. Tony confronts her about how she's been terrible to him ever since she grew tits. When Scarlett gets on her knees to clean a table, her short skirt rides up to show that she's not wearing any panties to cover her meaty pussy. He instructs her to keep scrubbing as he rubs his hard dick through his pants.Tony gets a bright idea when he realizes his sister is wearing a white shirt and no bra. He calls her name, then dumps water on her when she turns around so her shirt gro
...
ws transparent. She decides that since Tony keeps talking about her boobs she should just whip them out and clean topless. Since Scarlett is fucking with him, Tony decides to fuck with her by pulling out his hardon to stroke it. When Scarlett mocks him, he waits until she has turned around to continue cleaning before he comes up behind her and sticks it in. He would have kept it up except their parents come home and they have to hide their attraction.Later, Scarlett comes to Tony's room to seduce him into finishing what he started. She asks to give him a blowjob, but as soon as she's done some work with her hands and mouth she leans over the bed so he can fuck her from behind again. They can't stop banging, with Scarlett riding Tony before getting on her hands and knees for yet another pounding from behind. When she rolls onto her back, her moans let Tony know he's gotten his stepsister off. Now that she's satisfied, Scarlett indulges Tony with a deep throat BJ until he fills her mouth with a cum shot that she eagerly sucks clean.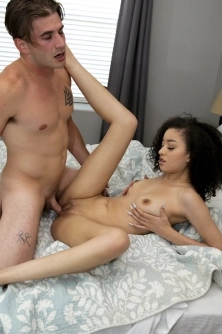 Caught With My Step Sister
Scarlett Bloom has to share rooms with her stepbrother, Nathan Bronson, while their aunt is in town. Scarlett isn't inherently opposed to sharing, but she has a bedtime tradition of masturbating before she goes to sl ...
Top 20 Models
Statistics

Models 4.917
Galleries: 11.062
Pictures: 219.136
Videos: 3.715