Pas De Deux

Ballerina babes Adelle and Claudia Macc intended to practice their dance routine together, but instead the lusty lovers find themselves lip-locked and horny. Claudia exacerbates the situation by peeling off first Adelle's top and then her own, then gets on her knees to lick and suckle the raven-haired spinner's nipples. Soon Claudia has worked her way to the ground and has taken Adelle's clothes with her, leaving her woman naked and hanging on to the ballet bar for support. Adelle's grip gets even tighter when Claudia presses her face to Adelle's creamy bald pussy and puts her magic tongue to work eliciting the utmost orgasmic pleasure.Adelle isn't one to let her lover go without! With her b
...
ody still quivering from its climax, she presses Claudia to the ground and then puts her hands to work fingering and fucking Claudia's shaved snatch until the blonde is quaking from her own climax. Never one to be outdone, Claudia ends their lovemaking by turning the tables one more time to bring Adelle to a second swift burst of pleasure that finally leaves both girls sated.

Pretty Pussy
Cute and playful, Adelle is a 21 year old sex kitten who is always ready to pleasure her horny body. As the super skinny coed slowly peels off her clothes to unveil her tanned toned body, a big smile of excitement cr ...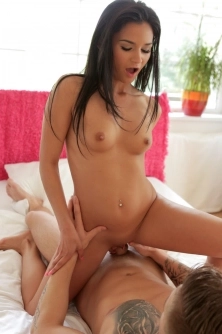 Workout Partner
Adelle and Chriss Tom get together in Adelle's dorm room every morning to work out together. When they're done with fitness, they're all warmed up for a hot fuck fest! Today Chriss peels Adelle out of her leotard so ...
Top 20 Models
Statistics

Models 4.917
Galleries: 11.062
Pictures: 219.136
Videos: 3.715