Touch My Titties

Jamie Jett is dressed for her big plans for the evening: A concert and a date with a guy who's got a nice big dick. When she gets a call from her mom to let her know that she can't go out since she didn't finish her chores, Jamie is pissed. She tries to tell her mom to make her stepbrother, Tony, do it. Tony doesn't appreciate being volunteered to do his stepsister's chores and refuses so that Jamie can't go to the concert.Later, when Jamie is cleaning the bathroom, she gets water all over her shirt and takes it off. She noticed Tony creeping on her, so later she corners him in his room and tells him that since she missed her dick appointment he has to fuck her instead. Tony tries to protest
...
, but once Jamie flashes those titties at him he reconsiders. Soon, Jamie has her mouth wrapped around Tony's big dick as she happily sucks his cock and balls. When Jamie hops on to Tony's fuck stick for a bald pussy ride, he squeezes and kneads those titties until she turns around to give him her ass in reverse cowgirl.On her hands and knees, Jessie moans nice and loud as Tony slams back into her. He gives it to her nice and fast, just like she wants. When Jamie has finally had enough, she climbs off the D and opens wide to resume sucking. This hot coed is voracious as she delivers a sloppy BJ to her stepbrother. She keeps it up until Tony nuts in her mouth, delivering a load of cum that leaves Jamie smiling and feeling a little bit better about missing out on her hot date.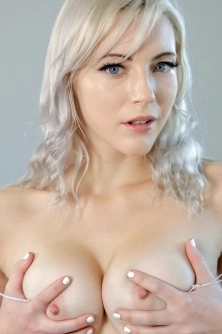 I Like Fitness And Fucking
Jamie Jett wants to be a personal trainer, but she has to interview with Jason for the job. That's okay; this perky little blonde is keen to do whatever it takes to get the job. She starts with a more traditional int ...
Top 20 Models
Statistics

Models 4.917
Galleries: 11.062
Pictures: 219.136
Videos: 3.715