Girls Who Lie

Step-cousins Aliya Brynn, Ellie Eilish, and Ms Faris aren't thrilled at having their former stepbrother, Codey Steele, come to stay with them for the summer. Codey has been a jerk to the three of them in the past, so now that he's coming back the girls decide that it's time to get some payback. They dress in their hottest outfits as they await Codey's arrival. When Kayla Paige lets her ex, Brock Doom, and Codey Steele in, Ellie and Aliya wait quietly on the couch. Codey wastes no time in coming over to greet them. Ms Faris joins them a moment later and the girls corner Codey to break down what's going to happen.That's all the warning Codey has before Ms Faris pops her titties out and pulls h
...
is head to her pierced nipples. Aliya and Ellie are prepared with their phone cameras, filming Codey in the act as Ms Faris yells about how much she doesn't want this. Aliya takes the opportunity to pull out Codey's dick. Leaning in, she wraps her lips around it while Ellie keeps on filming. The girls yell at Codey to tell him to take his dick out of Aliya's mouth as she continues gobbling that hardon. Setting her phone down, Ellie peels her shorts off and slides down on Codey's dick while the girls demand to know why he's fucking her.Codey decides to roll with it, fucking Ellie back as she rides him. Watching Ellie fuck Codey gets Aliya and Ms Faris super horny, so they each decide to take a turn. Aliya gets a taste of Codey's dick next as she settles on her knees with Codey banging her from behind and her face buried between Ellie's legs. Meanwhile, Ms Faris rides Ellie's mouth so that all four are getting some carnal pleasure. Ms Faris takes Codey's hardon next as she feasts on Ellie, who in turn muff dives Aliya. Ms Faris eventually gets up and moves to Aliya's mouth to create a lesbian 69 while Codey switches back to giving it to Ellie. When Codey rolls onto his back, the girls climb on top with Aliya taking his cock and Ellie taking his face. Then Ms Faris relieves Aliya, who shows off her acrobatic skills to let Ms Faris slurp her snatch. The girls end up setting themselves up for a triple facial as Codey finally reaches his own finish line. As the three step-cousins are basking in the afterglow, Codey reminds them all that Kayla had security cameras installed that filmed the real deal.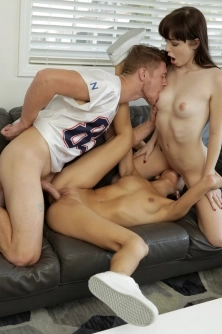 Super Sunday With My Step Sis And Her Friend
Aliya Brynn and Emily Willis were planning on watching the big game with Aliya's boyfriend, but his rich aunt bought him tickets so his plans changed. The girls had already purchased sexy outfits, so they decide to p ...
Top 20 Models
Statistics

Models 4.917
Galleries: 11.062
Pictures: 219.136
Videos: 3.715