Whos Your Favorite

Jason has come to visit his niece by marriage, Allie Addison and her stepsister, Harmony Wonder. Uncle J asked Harmony if she wanted to go to the fair with him, and the girls wind up arguing over it as Jason walks in. He says that if the girls will get along, he will take both girls. Instead of making things better, Uncle J's offer makes things worse. The girls start arguing and Harmony reveals that she must be the favorite because Jason let her suck his dick once. Jason points out that that was supposed to be a secret, but the damage is done. Now Allie wants a crack at sucking Uncle J's cock.The girls chase Uncle J into the bedroom and corner him on the bed, where Allie relieves him of his
...
pants and starts sucking. Harmony isn't about to let Allie have all the fun. She stands there for a while, feeling up her small titties and big ass until she can't resist the temptation a moment longer. She swaps places with Allie, but it's not long before the girls start sucking together. Harmony eventually gets to her feet and slides down on Uncle J's dick as Allie helps her feel good. Then the girls once again switch.After another BJ, the girls each take turns climbing on top of Uncle J so they can explore what it feels like to ride his cock. Harmony gets the first go, but it's not long before Allie gives Uncle J a reverse cowgirl ride. The girls are loving Uncle J's big cock as Harmony takes it on her back while Allie rides her face. Then Allie mirrors Harmony's previous position, complete with having her stepsister's pussy on her mouth. On her belly, Harmony gets it from behind as she feasts on Allie, who's also on her tummy. As Uncle J gets close to cumming, the girls lay side by side so he can fuck them both. They finish their threesome with their mouths open to welcome his nut on their faces. Now the girls are getting along great to go to the fair as a happy group.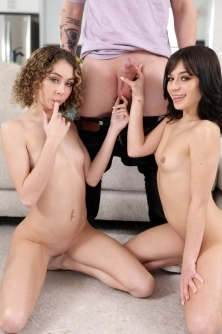 These Taste Like Dick
It's Easter, which means that marshmallow chicks are in season. Aria Valencia and her friend Allie Addison are enjoying themselves with the snacks while chatting that they taste like dick. Aria's stepbrother, Joshua ...
Top 20 Models
Statistics

Models 4.917
Galleries: 11.062
Pictures: 219.136
Videos: 3.715