Fourth Of July Creampie

Bella Rose and her stepsister Daphne Dare are hanging Fourth of July decorations when their stepdad Dick Chibbles arrives with his friend Brad Sterling. He introduces everyone before heading out with Brad to grab a drink. Bella is instantly interested in Brad, who she reasons will have money and will know how to fuck better since he's a bit older. When Bella has explained all this to Daphne, the guys return. Bella takes the opportunity to show off her tits and pussy when her dad's back is turned. Brad holds his peace until Dick leaves to grab some refills, then explains to Bella that her behavior is inappropriate.When Brad heads out to rejoin Dick, Daphne tells Bella that she's probably comi
...
ng on too slutty. When Daphne claims that she could make out with Brad, Bella takes off. That gives Daphne just the opportunity to make her move when Brad returns without Dick. Little does Daphne know as she's locking lips with Brad that Bella is hiding and recording the whole thing. She waits until she has a moment alone with Brad, then shows him the video and tells him he'd better come to her room to eat her out if he wants the recording to go away.Brad is in a bind, so he does as Bella insists. She gives him a nice cock sucking before letting him in for a pussy feast, but Daphne interrupts them. That's okay with Bella; she coaxes Daphne into joining her in a double BJ. Then she whips out her phone and starts filming Brad as he sinks balls deep into Daphne's juicy twat. She uses this new video evidence to insist that Brad needs to fuck her, too, resulting in a full-blown threesome with Daphne and Bella taking turns riding Brad's fuck stick. After playing the reluctant stud to two young coeds, Brad busts a nut in Daphne's snatch. They're just trying to figure out what to do when Dick comes in and flips out at the tableau of his daughters naked with his friend.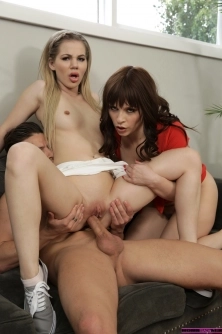 My Step Moms A Freak
Bella Rose knows that her stepmom, Kiara Edwards, is a bit of a sex freak. She uses her vlog to share a few examples. Things start to get freaky when Bella is in the shower and Kiara just waltzes in. After doing her ...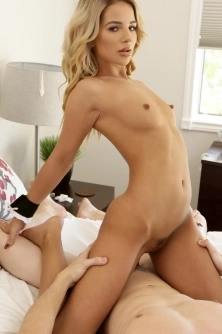 Sister Lost A Bet
Bella Rose has lost a bet and now she has to clean her stepbrother's bedroom in a sexy maid costume. She makes good on her promise while Alex D. watches and makes comments. His room is littered with cum rags and used ...
Top 20 Models
Statistics

Models 4.917
Galleries: 11.062
Pictures: 219.136
Videos: 3.715