Rub Down

Beautiful blonde Lindsay has laid out her lover Liza on a massage table next to the pool. Using generous dollops of oil, she coats her woman's full ass and delectable shaved pussy until all of Liza's most sensitive parts are slick and wet.As soon as Liza's twat is well lubricated, Lindsay goes a step further and slides two stiff fingers deep into her woman's tight sheath. Her strokes are slow and steady, meant more for gradual pleasure than for a quick orgasm. It is soon evident that those touches are doing their intended job as Liza's moans fill the room.Dropping to her knees, Lindsay turns her woman over onto her back and settles between Liza's spread legs to bury her face in her soft swee
...
t pussy. After licking and suckling on Liza's pink folds for a few minutes, Lindsay rises to her feet once again and drives her fingers hard and fast into her woman's needy hole until her orgasm breaks over her.Eager to return the pleasure, Liza helps Lindsay onto the table and immediately begins lapping her tongue up and down her lover's shaved pussy. Once the blonde is slick with her own juices and Liza's spit, her redheaded lover slides a thumb into her needy fuck hole and begins a slow seduction that gradually picks up speed.Soon the blonde contributes to her pleasure, giving her own pussy a good pussy while Liza rubs Lindsay's needy clit. Working together, the girls bring Lindsay to a panting moaning orgasm that leaves her exhausted and sated.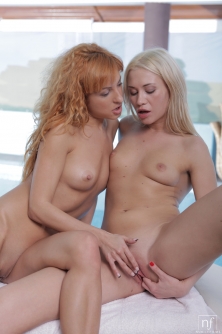 Rub Down - S9:E1
Beautiful blonde Lindsay has laid out her lover Liza on a massage table next to the pool. Using generous dollops of oil, she coats her woman's full ass and delectable shaved pussy until all of Liza's most sensitive p ...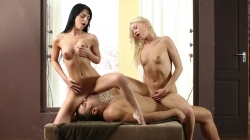 For Your Viewing Pleasure
Jessica Swan and Lindsay have some fun together in the shower as their man Antonio Ross watches through the clear glass doors. The exhibitionism gets the girls a ...
Top 20 Models
Statistics

Models 4.917
Galleries: 11.062
Pictures: 219.136
Videos: 3.715