Stepmom Helps Me Get Over My Ex
Tony has recently been dumped by his ex over the phone. His heart is totally broken! Tony's stepmom, Jordan Maxx, happens to overhear the breakup. She sits down to console him, and listens nicely when Tony confesses that they were going to have their first time together tonight. He shows his stepmom the lingerie he bought to commemorate the occasion. Jordan says that she can find someone who will appreciate the lingerie set and Tony goes to his room.A little while later, Jordan struts into Tony's room wearing said lingerie. She's decided that she wants to thank him for being such a good stepson to her. She has seen Tony walking around in his boxers with his morning wood, and she thinks that
...
she can scratch her itch while helping Tony get over his ex. All they have to do is fuck. Tony puts up a bit of resistance, but how can he say no to such a stunning mommy when she's wearing a sheer lacy getup and obviously wants him? Crawling into bed with Tony, Jordan shows off her incredible breasts that are framed by the bra and then gets on her knees so Tony can admire the way her ass looks in that g-string. Then she opens wide and starts sucking Tony's cock like a Hoover.Back on her hands and knees, Jordan moans long and loud as Tony sticks it in. They do it in doggy, then Jordan gets on her back and spreads her thighs nice and wide for Tony to deliver a proper pussy pounding. When Tony lays down, Jordan climbs on top and slides down to ride him in reverse cowgirl as he kneads her fine bottom. When Jordan senses that Tony is getting close to cumming, she kneels beside him and goes back to blowing him. Seeing his hot stepmommmy with her mouth around his cock is enough to make Tony blow his load and deliver a nice big mouthful of cum just for Jordan to enjoy.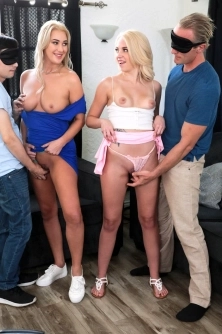 Guess Whose Pussy This Is
What would happen if four families each contributed one member to create a new family? In this episode of Family Swap, Madison Summers and her swap mom Jordan Maxx want to play a game with their swap fam. They bring ...
Top 20 Models
Statistics

Models 4.917
Galleries: 11.062
Pictures: 219.136
Videos: 3.715