Insatiable Appetite

There's nothing but passion between Jessica Starling and Joshua Lewis as Jessica pushes Joshua against the fridge and peppers him with kisses. She's decked out in some lingerie that gives Joshua an instant stiffie, but that bra and thong won't last for long in the face of their sexual need.Kissing Jessica's neck and slipping his hands down her thong isn't enough for Joshua. He pops her tits out of her bra and kneads those big cans. In return, Jessica drops to a crouch and springs her lover's hardon free of his briefs. Opening wide, she sucks him down to her heart's content as he thrusts into her hot mouth.Bending Jessica over the counter, Joshua gets on his knees to help her out of her thon
...
g. He's already down there, so he leans forward to lap at her juicy snatch for a taste of her musk. Then he gets to his feet and slides on home as Jessica leans forward and hangs on tight to the counter.Retiring to the bedroom for a more comfortable space to enjoy one another, the couple gets into bed. Joshua lays down so that Jessica can resume her blowjob, which now tastes like their combined juices. Rearing back, she pushes her big ones together to create a sheathe for Joshua to titty fuck.Since Joshua is already prone on the bed, it's easy for Jessica to climb on top of him. Straddling his hips, she guides her hairy twat down to eat that cock right up. When she's fully impaled, she bounces away in a stiffie ride that leaves her squirming and moaning in bliss.On her back, Jessica spreads herself wide open for Joshua to reenter her. He holds her legs apart to keep the angle of penetration just so. Then Jessica flips over so that she's still on her knees and holding herself up while Joshua does her in doggy from behind.When Jessica falls to her side, Joshua follows her down. Their spooning sex is the perfect position for Joshua's hands to explore Jessica's big tits. The combination of her velvet glove and soft boobies finally brings him to the edge. Pulling out, he blows his load all over Jessica's muff to satisfy both of their passion.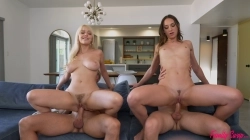 One Big Horny Family
What would happen if three families each contributed one member to create a new family? In this episode of Family Swap, swap parents Jessica Starling and Clark K ...
Top 20 Models
Statistics

Models 4.917
Galleries: 11.062
Pictures: 219.136
Videos: 3.715