The Introduction

Dressed to impress, Lovita Fate helps Alyssa Bounty look her very best. The girls exchange a kiss, then walk out hand in hand to where Stanley Johnson is waiting. Stanley is open to making Alyssa's acquaintance, but not before checking her out and making sure she's his type. Once he decides that Alyssa will do, Stanley lifts both girls' miniskirts to deliver some spankings.The girls peel off their dresses at Stanley's request, standing proudly in their panties, thigh high stockings, and high heels. Stanley has Lovita take off Alyssa's thong, which leaves Lovita on her knees with her face buried in Alyssa's pussy.Stanley takes a hot minute to stare into Alyssa's eyes and observe her helpless
...
pleasure as Lovita eats her out. Turning Alyssa around, Stanley kneads her breasts and runs his tongue over her most sensitive spots while Lovta keeps up her pussy feast. Her hand snakes low to where Stanley's hard dick awaits. Stroking him off is just foreplay for the moment where Alyssa joins Lovita on her knees so they can deliver a blowjob together.The trio takes their party to the couch, where Stanley takes a seat. His dick rises proudly as Lovita helps Alyssa sink down onto it. When she's fully impaled in reverse cowgirl, Alyssa begins riding as she bounces up and down. Stanley helps her set the pace while Lovita leaves nothing on the table when it comes to making her lovers moan.When it's Lovita's turn to ride the stiffie, the girls trade spots. Lovita and Stanley are obviously well acquainted as she eagerly impales herself on his hardon. Setting a fast pace that she can sustain as long as necessary, Lovita gives it everything she's got. She keeps it up until falling backwards off the D so that Alyssa can suck Lovta's girl goo from Stanley's hardon and then lick Lovita's twat clean.Alyssa gets another go as she gets on her feet and leans forward so that she is braced against the couch. Stanley comes into her from behind and goes for it. They enjoy a fast and furious coupling before Lovita lays down on the couch to invite Alyssa and Stanley to change it up. Alyssa mounts Lovita's mouth, while Stanley shoves into her creamy cooch. Then the girls swap spots so Alyssa can enjoy Stanley's fuck stick buried inside her as she holds her legs back to welcome him inside.Sitting back down on the couch, Stanley pulls Lovita into his arms. She sinks down so he's inside her in cowgirl. With Alyssa grasping her ass cheeks, Lovita bounces away. Alyssa gets a final indulgence of her own as she mirrors Lovita's position and really shows Stanley how she likes to ride, complete with getting spanked.Stanley is pleased with the girls, and he demonstrates it by getting them back on their knees. They go willingly, smiling up the line of Stanley's body as he brings himself off that last little way to his orgasm. Taking aim, he blows his load into two open waiting mouths so they can each enjoy the treat of his cum shot.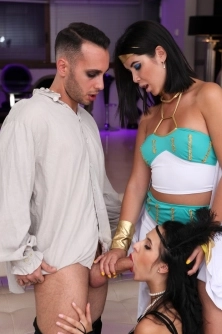 Here For The Party
Dressed up for Halloween, Alyssa Bounty and Lady D enjoy drinks and gossip on the couch. Alyssa runs for the door when she hears a knock and escorts Raul Costa, dressed as a pirate, inside. Taking a seat between the ...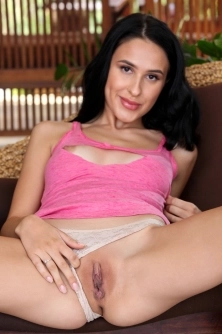 Tease Me
Lovely brunette babe Alyssa Bounty is ready to show you how she likes her tight body to be touched. This born athlete is blessed with big breasts, big nipples, and a big appetite for sex. Let her show you how she lik ...
Top 20 Models
Statistics

Models 4.917
Galleries: 11.062
Pictures: 219.136
Videos: 3.715