Alana Rains - Give Me Your Cum
We may have sunk to a new level of sickness with this release. Alana Rains has her human toilet doing his cuckold duties when she gets a call from black master Shane Diesel. Alana's ears perk up when she hears that her black owner approves of her domination of a pathetic white guy. Shane wants to join in on the fun, so it's out of the bathroom and into Shane's den of deviance. The Human Toilet transforms in to the Human Ashtray and he lives up to that moniker. Alana puffs on a cigarette right before she inhales the big black monstrosity in the room. The cuckold's usefulness only comes when his temptress needs to ash from a cigarette that now has crimson red wrapped around one end. Shane and
...
Alana continue their verbal destruction of the cuckold even as her lips secure a vacuum seal around his big black cock. The Human Ashtray only gets mercy when he's allowed the distinct honor of getting a front row seat to the vaginal and anal pounding of his queen. Shane Diesel pounds that 18-year-old's pussy as the cuckold's eyes bulge out from the visual stimulation. Shane's third leg changes course from Alana's pussy to her ass. The gape resulting from Shane's nonstop anal blitzkrieg is easily visible from outer space. Alana's ass gets stuffed with that massive black sausage until it detonates in a spot that only video can best describe.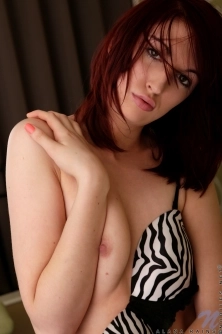 Sassy Chick
Looking incredible in torn jeans and a zebra bra, 18 year old Alana Rains assume a variety of poses to show off her voluptuous body. She shimmies and sways in a provocative striptease as she removes all of her clothe ...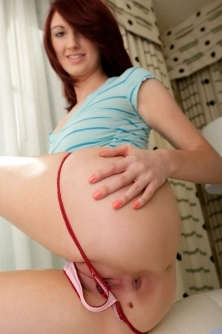 Beautiful And Flexible
Readheaded cutie Alana Rains is an American girl with an insatiable appetite for rough sex. This fiery sweetie shows us how much hard touches turn her on as she grips her small boobs and pulls her thong high into her ...
Top 20 Models
Statistics

Models 4.917
Galleries: 11.062
Pictures: 219.136
Videos: 3.715