Beauty Divine

What would you give to wake up next to a hottie like Kay J? She's not shy about flashing her big titties as she peels off her crop top and thong. Spreading her thighs, she shows off her meaty bare pussy that's already wet and ready for a party courtesy of her talented fingers.
More Galleries featuring Kay J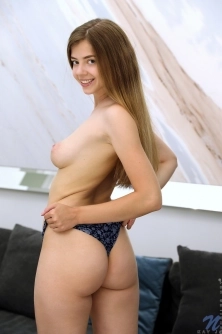 Sexy And Cute
A bra and panties can barely contain the erotic bounty of Kay J's sexy bod. She flirts with the camera like a pro as she teases us with peeks of her titties and twat. She's not a cock tease! She's all smiles as she s ...
Top 20 Models
Statistics

Models 4.917
Galleries: 11.062
Pictures: 219.136
Videos: 3.715