Now Its A Party

Lexi Luna has been trying to get her husband Ryan Mclane to have a threesome. Ryan keeps turning her down, so Lexi gets craftier and craftier. Today she has decked herself out in a hot little bathing suit with plenty of suntan lotion oiling up her soft skin. She has Aubree Valentine, the new girl in town, come on over for a Fourth of July barbeque wearing a barely-there bikini since she just knows Ryan will love Aubree's tits.Lexi waits until the last moment to tell Ryan that they're expecting company. Then she climbs into his lap and makes out with him until the doorbell rings. Leaving Ryan nice and horny on the couch, Lexi goes to invite Aubree inside. Aubree immediately tries to come on t
...
o Ryan, who isn't open to her advances.When Lexi sends Ryan out to go get some more food for their guest, the girls decide the best course of action is to start without him. Making out quickly leads Aubree to pop her plump breasts out of her bikini bra and then push Lexi onto her back. Tugging Lexi's thong aside, Aubree goes to work with her tongue exploring every inch of Lexi's twat.In return for the pussy feast, Lexi gets Aubree on her hands and knees with her bottom up in the air. Jiggling her ass, Aubree entices Lexi to do her worst. Slipping Aubree's bikini bottom aside, Lexi gets right up in her new friend's anus and fuck hole while rubbing Aubree's clit. Aubree is just getting to the good part when Ryan walks in on them.When Aubree tells Lexi that she likes her wieners long and hard, Ryan finally relents and gives in to threesome life. His reward is an enthusiastic double blowjob. The girls demonstrate without a doubt that they both love the cock and that they can share oh so well between sucking and stroking the shaft and balls.Lexi gets the first round with her husband's cock as she slides down onto Ryan's hardon to ride him in cowgirl. Aubree waits for Lexi to be comfortable, then kneels so that she's straddling Ryan's mouth. He uses his tongue to plumb Aubree's twat as his wife makes out with their third above him.Aubree finally gets a chance to enjoy Ryan's hardon next when she mounts him in reverse cowgirl. Lexi seats herself on Ryan's face so he can eat her out. The position lets her lean forward and lick at Aubree's chocolate starfish to double down on her friend's delight.Once the girls have licked their juices clean from Ryan's cock, Lexi takes a pussy pounding from Ryan's long dick. Since she's on her knees anyway, she gets to enjoy lapping at Aubree's snatch some more. The girls tag out so that Aubree is on her back with Ryan buried between her thighs and her mouth muffled on Lexi's tit as they all approach the inevitable conclusion of their liaison.With Lexi's encouragement, Ryan pounds Aubree right up until the very last moment. Pulling out, he lets Aubree jerk him off those last few strokes to cover her muff in his cum shot. Lexi is right there to lick the treat up and to share it with Aubree as they bask in the afterglow of an enjoyable Fourth of July threesome.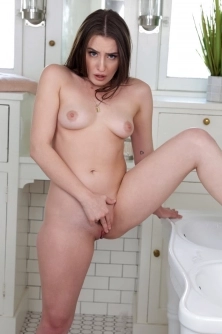 Get Me Wet
For Aubree Valentine, shower time is guaranteed fun time thanks to the warm water and her talented fingers. This horny coed can't even wait to get into the tub to get started masturbating. Her fingers work overtime, ...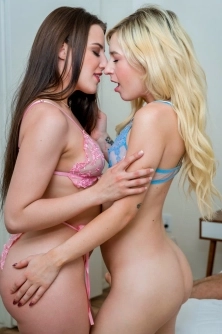 Dont Mind If I Do
Minxx Marii and her boyfriend Robby Echo have been together for long enough that the sex is comfortable and fun, but not necessarily new and exciting any longer. They're just getting hot and heavy with one another wh ...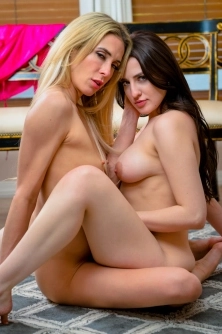 The Artist
Aiden Ashley has agreed to be the model for Aubree Valentine's painting. Aubree is just getting her materials put together when Aiden rings the doorbell. She shows Aiden in while flashing some plump ass cheeks that A ...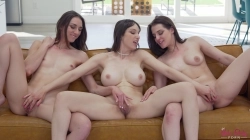 Milf In The Middle
Aubree Valentine and Andi Rose have been in a relationship together for a while, in addition to living together. Their other friend, Ashley, has been telling the ...
Top 20 Models
Statistics

Models 4.917
Galleries: 11.062
Pictures: 219.136
Videos: 3.715