Buxom Beauty

A cute sundress hugs every one of Georgie Lyall's curves as she wanders upstairs to join Michael Fly in the bedroom. Michael has a present for Georgie. Once she puts on her new necklace, she decides to show her gratitude by letting Michael enjoy her body in nothing but the necklace.Flipping up her miniskirt, Georgie jiggles her booty for Michael's enjoyment. Then she pulls her big natural breasts out to flaunt in his face. Letting the dress fall to the floor, she gives Michael an up close and personal view of her knockers and ass as she slides her thong down.Grapping Michael and urging him to his feet, Georgie helps him remove his shirt while caressing his chest with her boobs. Then she slow
...
ly drops to her knees, hands on Michael's hardon as she strokes him. Pressing her jugs together, she creates a sheath for a titty fuck that has Michael ready and raring to go. The position even lets her easily lean forward to suck the head of Michael's dick.Relocating to the bed, Georgie spreads her thighs so Michael can cup his hand around her mons. Finding her hot and wet, he leans in to lap up a sample of her sweet musk. His fingers probe Georgie's tight fuck hole, moving easily as her slippery juices lubricate the way. Two fingers inside and a tongue on her clit, Michael brings Georgie to a moaning climax.As her body throbs, Michael spoons beside her and slides his cock home. Their spooning sex is sweet and sensual, offering Michael plenty of opportunities to indulge in slow kisses and caresses to her tender titties. When they decide to change things up, Georgie rolls Michael onto his back and climbs aboard so her breasts can shimmy and shake as she rides his fuck stick with sinuous strokes of her hips. On her back on the bed with one leg held high in the air, Georgie moans her delight as Michael continues to bring her the pleasure she craves. Her landing strip snatch is the perfect glove for Michael's hardon, embracing him with the delight of their sensual connection. As she shivers with one last completion, Georgie reaches down to guide Michael by his cock until he comes close enough that she can renew her blowjob. Stroking and sucking, she entices Michael to blow his load all over her massive all naturals.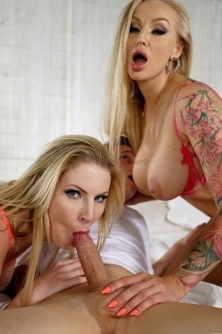 Double Your Pleasure
Georgie Lyall and Kayla Green enjoy an afternoon in bed while Nikki Nutz watches, caressing one another's soft skin and pressing their big boobs together. Their romp continues as they lay side by side, kissing and st ...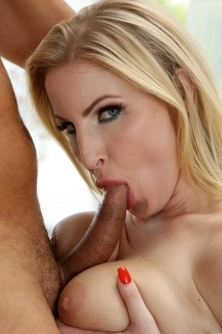 A Sirens Call
Georgie Lyall is looking fine as she decks herself out in lingerie that includes a demi bra that can't constrain her big breasts. She sends some naughty selfies to Renato as a teaser for when he gets home from work. ...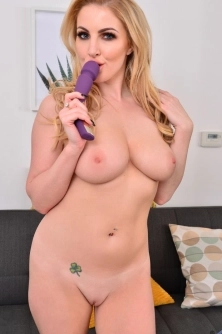 Natural Tits
Lucky Georgie Lyall has a pair of all natural massive boobs that she loves to show off. She is stunning in a bra and thong, and as she keeps stripping her hands are everywhere pinching her nipples and caressing herse ...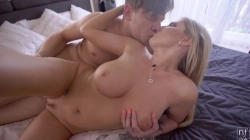 Buxom Beauty
A cute sundress hugs every one of Georgie Lyall's curves as she wanders upstairs to join Michael Fly in the bedroom. Michael has a present for Georgie. Once she ...
Top 20 Models
Statistics

Models 4.917
Galleries: 11.062
Pictures: 219.136
Videos: 3.715